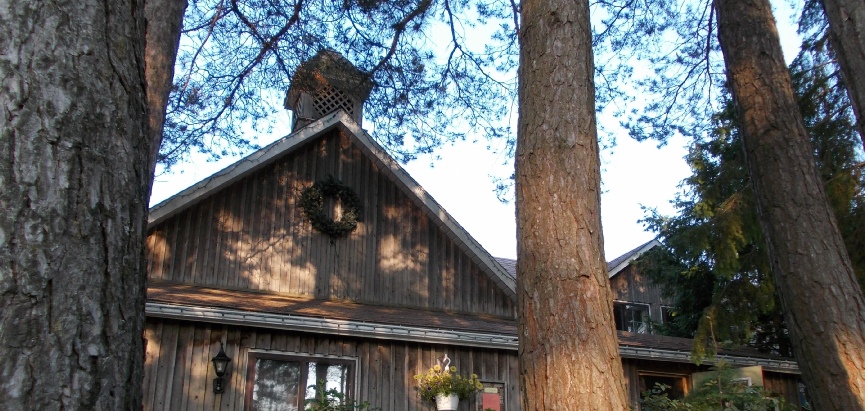 Copyright © 2013 Manitoulin Marketing. All Rights Reserved.
The first room of the School House was built in 1898. This is the room that now houses the dining room. The children would have used the double doors that customers now use to enter the dining room.
The original cloak room space has been converted into the patrons' washrooms. The large stained glass window along the east wall fills the space where the blackboard used to hang.
The original hardwood flooring is still in place and comprises boards of curiously different widths. These would have been scraps obtained at low cost or donated by the local mill as Providence Bay was a lumber town and the wood would have been plentiful.
The windows are original school house windows, once you sit down you can no longer look out, you can only look up. No distractions for the children! The giant globe lights are original to the school house as is the clock and the picture of HRH David, Prince of Wales.
The backyard originally held 2 baseball diamonds and a playground and was surrounded by Jack Pines planted in 1939 to mark the Royal visit to Canada of King George VI and Queen Elizabeth (The Queen Mother).
A population boom in the 1940's led to the building of the second school room which now houses the kitchens and the Niven residence. The school continued to operate until 1969 when it was officially closed and local children were bused 13 km to the school in Mindemoya.
In 1972 the building was privately purchased and renovated into a summer home. Greg and Heather Niven purchased it in 1995 and the following year opened The School House restaurant, now one of Manitoulin's finest dining establishments.
Greg apprenticed under a French chef then went to work as a Chef at Auberge du Pommier (a Peter Oliver restaurant) in Toronto with dreams of some day opening up his own place.
My parents had been regular cottagers on Manitoulin since the 1960's. We visted them on the island in 1995 and while there, discovered that the School House building in Providence Bay was for sale .
At the time, we felt that there was a niche for this type of food on the Island. We wanted to provide an experience of fine dining in a casual atmosphere.
In the spring of 1996 we bought the school house and moved to Manitoulin. We opened on the Victoria Day weekend in May of 1996 and haven't looked back.
What a great decision to move to Manitoulin! The island has been a wonderful place to live, work and raise our family.
We love it here.
- Heather Niven
Greg & Heather Niven
…more recent history
The Providence Bay Schoolhouse…
…a century of history